The purpose of the Community Gardens is to provide a low-cost gardening site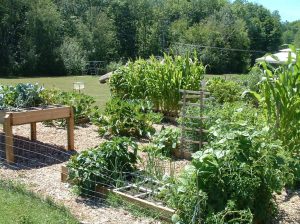 for community members to grow vegetables.
Gardening season is winding down and current renters should have their beds cleaned out by November 15. If you have garlic or  perennial vegetables, please mark those squares. Those who rented gardens this year should reserve their plot(s) for next season by April 1 to assure availability. The cost will again be $12 for the standard 4'x8′ beds and $7 for smaller beds. New gardeners are welcome.
If you would like to rent a garden bed for next year, please contact the UW-Extension office: Michelle at 715-748-3327 ext. 2 or Cathy 715-748-3327 ext. 3.
Excess produce can be donated to the Food Pantry. They are open Tuesday, Wednesday, and Friday, 10 a.m. – 2 p.m.