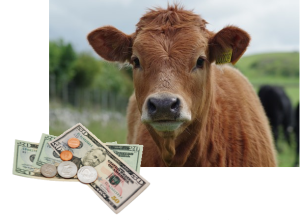 3-evening workshop series: January 24, January 31, February 7 (Participants should attend all 3 sessions)
5 p.m. – 8 p.m. (Registration at 5 p.m., light supper at 5:30 p.m., classroom session 6 to 8 p.m.)
County/USDA Service Center, 925 Donald St in Medford
For anyone interested in learning about or improving their operation's financial management, focus is on beef.
Topics:
Introduction to the Financial Management Model
Records and Recordkeeping
Financial Statements (balance sheet, income statement)
Analysis and Interpretation of Financial Statements
Benchmarking of Financial Position and Performance
Fee is $60 for all three sessions, includes in-class materials and supper
Register by January 16.
Online: http://bit.ly/FarmFinance2019. Can pay be credit card.
By mail: Send check payable to UW-Extension.
Taylor County UW-Extension
925 Donald St Room 103
Medford WI 54451
Include name, address, city, state, zip code, email, dietary restrictions or accessibility needs.
Farming Your Finances – Beef Jan_Feb 2019 Brochure