Taylor County 4-H Summer Day Camps
Dates for summer day camps 2022 are:
K5 – 5th grade youth (2021-2022 school year)

9:00a.m. – 3:30 p.m.
Cost $10
Wednesday, June 8th • Wood Lake County Park, Rib Lake
Wednesday, July 13th • Medford School Forest
Wednesday, August 3rd • Diamond Lake, Lublin (Gilman)
Wednesday, August 10th • Stetsonville Elementary School Grounds

This camp includes:

Rocks
Plants/Leaves/Trees
Photography
Games
Foods/Nutrition
Citizenship/Leadership
Entomology
GPS – Geocaching

Cost for day camps is $10 and is due to the Taylor County Extension office 5 days prior to the event.
Simply go to

v2.4honline.com to register
Para pedir adecuaciones para la comunicación en un idioma distinto al inglés, favor de comunicarse con: oaic@extension.wisc.edu.
Taylor County 4-H Summer Overnight Camp
4-H Summer Camp 2022

North-Central Regional 4-H Summer Camp
June 13-15, 2022
Northern Lakes Impact Center, Rhinelander, WI
For youth grades 3-7 (just completed)
Join us for 3 days of FUN! Will include rock climbing, swimming, canoeing, games, campfires, and more, all in a safe, welcoming, and inclusive environment!!!
Need more information or help? Call 715-748-3327 or email
julie.diepenbrock@wisc.edu

.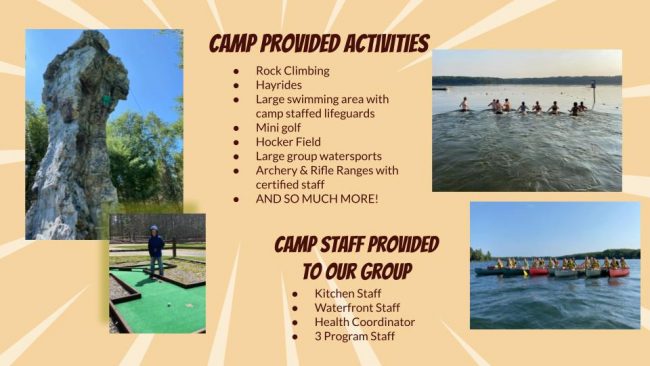 WHY 4-H CAMP?
The best gift we can give our kids is to empower them with skills that will last for a lifetime, which is why parents have been sending their kids to 4-H summer camps for decades.
4-H was founded on the belief that when kids are empowered to pursue their passions and chart their own courses, their skills grow and take shape, helping them to become true leaders in their lives, careers and communities.
4-H is grounded in a deliberate, research-backed development and delivery model, which means at 4-H camp, kids learn critical life skills like resilience and independence. If we want our kids to be able to bounce back from adversity, stress, challenges and failures, teaching them resilience is key. Having experiences outside their comfort zones help young people become more resilient, more independent and better able to plan and reach their long-term goals.
Camp Quick Information
Register in 4HOnline.
Cost for Camp is $50. Payment is due the Taylor County Extension Office by May 31.