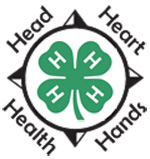 4-H volunteers, otherwise known as 4-H Leaders, make up the backbone of the 4-H Youth Development program, and without them 4-H would not exist.  The Taylor County 4-H only has one paid position, the 4-H Youth Development Educator or 4-H Agent.  This individual depends greatly on volunteers to help form clubs, chaperone and hold activities and events, help youth with projects, and keep the 4-H Youth Development program going.  Any time and effort from our volunteers is greatly appreciated. 
Leaders are very important to 4-H, they help with questions, share their skills, and help us remember what 4-H is all about.  Without our leaders we would not be able to have a successful 4-H Youth Development program.  There are different types of leaders and ways to be involved in the 4-H Youth Development program.
Types of 4-H Leaders
Organizational/General Leader:  oversees club leadership, coordinates members, parents, and other leaders and serves as a liaison between the club and the county extension office.
Project Leader:  guides and supports 4-H members in project learning experiences (ex. Photography leader, horse and pony leader, foods and nutrition leader, etc…).  For more information please see I'm a Project Leader, Now What Do I Do? (.pdf)
Youth Leader:  older youth who have taken on leadership roles in specific projects or the Youth Leader's Organization. See more information about the Youth Leadership Organization Project.
4-H Ambassadors:  Serve as ambassadors for the county 4-H program, planning special activities and events, and serving for public relations. Taylor County 4H Ambassador Program Application
Club Project and/or Activity Leaders:  These leaders work with a small group of 4-H members in a specific project or activity.
Club Organizational Leaders and Co-Leaders:  These leaders have the organizational duties in the local club.  Duties include assisting teen leaders and club officers, enrollment, records, etc.
Club Leaders
Leader References