Food Safety and Nutrition
UW-EXTENSION WEB RESOURCES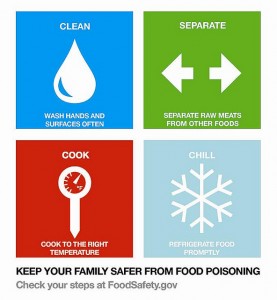 UW Food Safety and Health – the premier resource for food safety & health
information for Wisconsin consumers.
Your source for up-to-date and research-tested information on food preservation,
food safety, starting a small food business, and hot topics in food safety and health.
Meat HACCP – research-based help for small meat and poultry processors.
Key resources on this site include:
THERM – a web-based program for evaluating derivations in raw product processing or handling.
HACCP Model Plans – model plans jointly developed by the Wisconsin Department of Agriculture, Trade and Consumer Protection (Food Safety division) and the University of Wisconsin-Extension for use by small and very small meat processors throughout the state.
Safe and Healthy: Preserving Food at Home A blog with information about safely preserving food at home by Barb Ingham, UW-Extension Food Safety Specialist.
FACT SHEETS
ADDITIONAL WEB RESOURCES
• American Dietetic Association
• Be Food Safe
• ChooseMyPlate.gov
• Dietary Guidelines for Americans
• Fight BAC! (Partnership for Food Safety Education) • Food & Nutrition Information Center (USDA)
• FoodSafety.gov
• Nutrition.gov
• Nutrition, Physical Activity, and Obesity (Centers for Disease Control and Prevention)
• Recipe Finder (USDA)
• USDA Food Safety Fact Sheets
TURKEY INFORMATION
USDA Top Holiday Resources Information and links for safe handling of turkey from store to table.
Additional Turkey Information
EATING OUTDOORS



Eating Outdoors, Handling Food Safely (FDA Website)
Barbecue and Food Safety (.pdf)
More in this Section