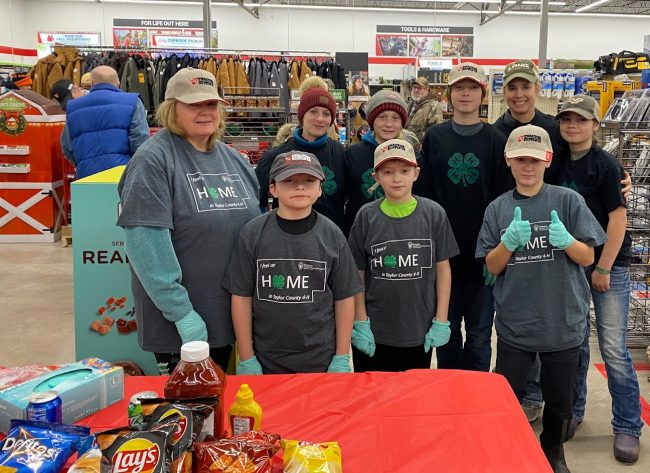 What is 4-H all about?
4-H members get involved in their communities as volunteers and youth leaders. They learn new things by completing dozens of different kinds of projects, going to camp, hosting international students, participating in local government, traveling for educational experiences, experimenting with science, making art, learning to canoe or taking care of an animal. These activities are largely facilitated though, research-based youth programming, learning-by-doing, regular 4-H club meetings, and adult mentorship. 4-H fosters healthy youth and adult relationships through process solving, project development, and interactive learning. 4-H is fun. 4-H grows here!
4-H Vision
A world in which youth and adults learn, grow, and work together as catalysts for positive change.
4-H Grows
A Promise to America's Kids In 2025, 4-H will reflect the population demographics, vulnerable populations, diverse needs and social conditions of the country.
4-H Mission
4-H empowers youth to reach their full potential working and learning in partnership with caring adults.
4-H Fun Facts
4-H Motto: "To make the best better."
4-H Colors: Green and White. The 4-H Flag is a green clover with a white H on each leaf and a white background.
4-H Stands For…..
Head: 4-H'ers learn about new project areas, try new skills, and gain new knowledge and experience.
Heart: 4-H'ers learn about who they are and what they stand for, along with gaining new friends.
Hands: 4-H'ers learn about helping their community and are involved in a wide variety of service projects.
Health: 4-Her's learn about healthy lifestyles and to make choices that will have a positive impact in their lives.
4-H Pledge
I pledge my HEAD to clearer thinking, my HEART to greater loyalty, my HANDS to larger service, and my HEALTH to better living, for my club, my community, my country, and my world.