Like many places across Wisconsin and the country, Taylor County lacks access to reliable, high-speed broadband. Local leaders in Taylor County decided to do something about it. The Taylor County Broadband Committee approved spending up to $10 million over the next 20 years to build a middle mile network – a term used in the telecommunications industry referring to connecting local networks to other service providers and the larger broadband infrastructure.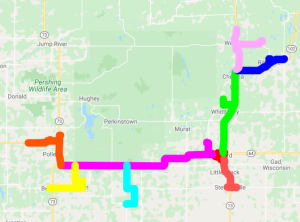 Click below to review the progress on the construction of the Taylor County Middle Mile Network.   As stated in The Star News June 2, 2022, the Middle Mile Network is nearing completion.  The next phase is to connect business customers closest to the fiber optic lines.
View Taylor County Progress Map
Please participate in the survey if you are interested in connecting to the middle mile network: Taylor County Broadband Project Survey
Ground breaking with Broadband Committee July 2021.