Keep up to date on all things Taylor County 4-H!
There is always a lot going on with Taylor County 4-H and to stay updated please be sure to utilize our forms of communication! The newsletter, bi-weekly emails, and the Taylor County 4-H Facebook page are all lines of communication for our events and current news.
All forms of our communications are available for the public to see and can be found below!
TAYLOR COUNTY 4-H PROMOTIONAL VIDEO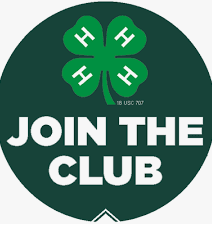 The Taylor County Federation of 4-H Leaders discussed at their September 14 meeting the possibility of creating a promotional video with Taylor County 4-H families! We would like 4-H members throughout the county to participate. This video will be shared on the Taylor County 4-H social media pages and be posted on the Taylor 4-H website! We are reaching out to you to see if you would like to make a contribution to this video! If you would be interested we are asking 4-Hers to:  Record a short video clip of no more than 30 seconds sharing what you love about 4-H and why you think others should join 4-H. Ideas might include:
Sharing your skills and interests with others through events/programs

Connecting with others with similar interests

Leading or participating in 4-H project meetings

Leading or participating in county-wide workshops or programs

Serving on county leadership committees

Holding an officer role or other leadership role

Participating in educational travel experiences

Attending camp or other county-level experiences

Explore future career paths

Participating in new a 4-H project

Leading group activities (such as an ice-breaker game) at club meetings

Leading a demonstration at your club

Participating or leading in a community service project such as:

Volunteering at your local library to hold a reading program, Roadside clean-up, or Volunteering at an assisted living facility to connect with residents through games and activities
All or part of your video submission may be featured in the Taylor County 4-H promo video  

If you have any 4-H apparel it would be awesome to see you wear it in your video!  

If you would be interested we please ask that you submit your video no later than September 30 to diepenbrock@wisc.edu. 
If you have any additional questions or would like to know more about this please don't hesitate to reach out to me at diepenbrock@wisc.edu